Healthy, respectful manhood means valuing and respecting women, girls, and LGBQ, Trans, and nonbinary people — and respecting and valuing oneself by striving to live authentically. 
The practice of healthy manhood is the path out of the Man Box, and it is essential to preventing violence and pursuing equity in our society. A Call to Men coined the term the Man Box to illustrate the collective socialization of men. In the Man Box, men are expected to be strong, successful, powerful, dominating, fearless, in control, and emotionless. In the Man Box, women are viewed as objects, as the property of men, and as having less value than men. The teachings of the Man Box allow violence against women, girls, and those at the margins of the margins to persist. The Man Box perpetuates a heterosexist norm that devalues all those who don't conform to a gender binary. 
By breaking out of the Man Box, male-identified people become healthier and help to build and sustain more equitable communities.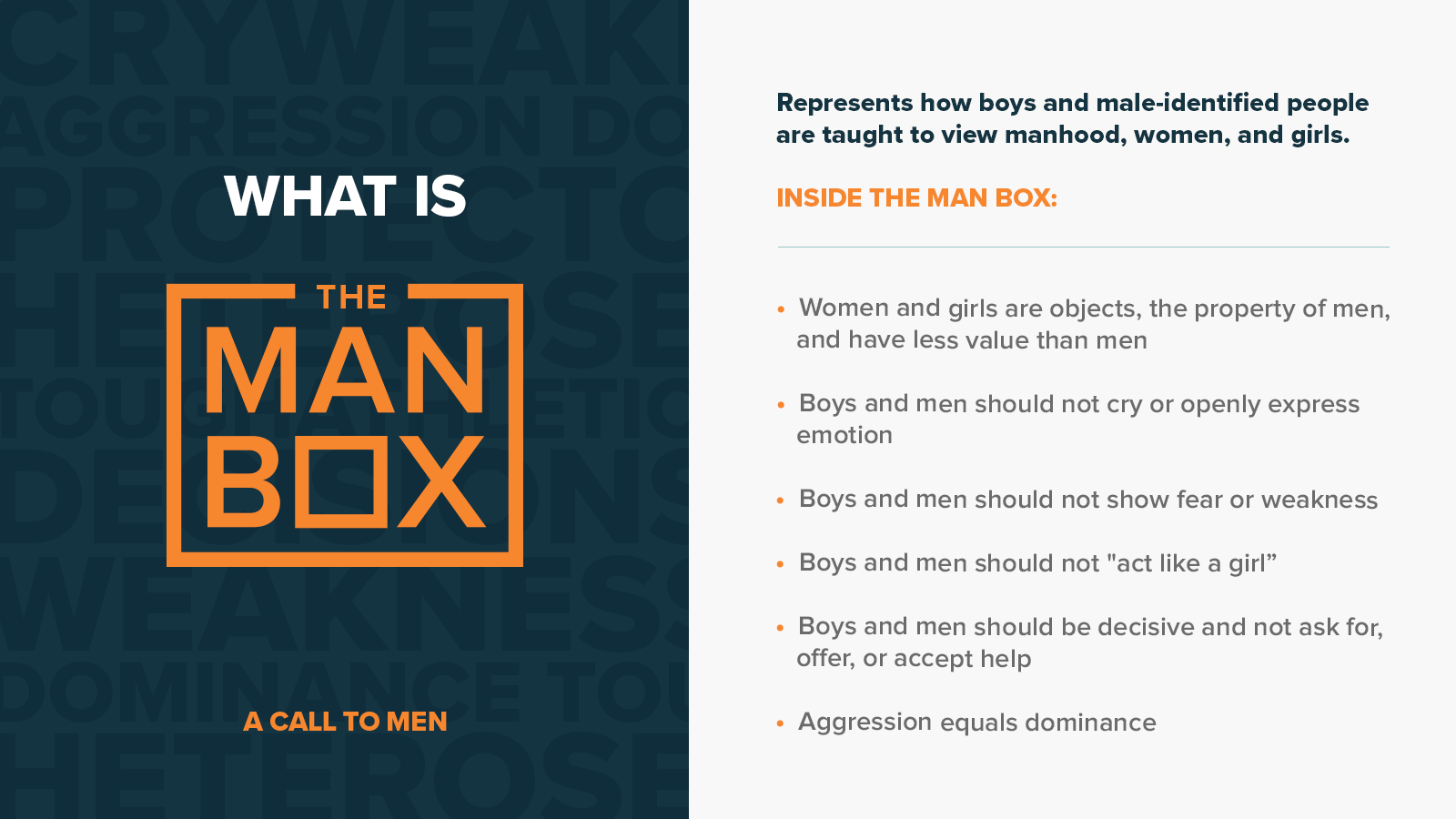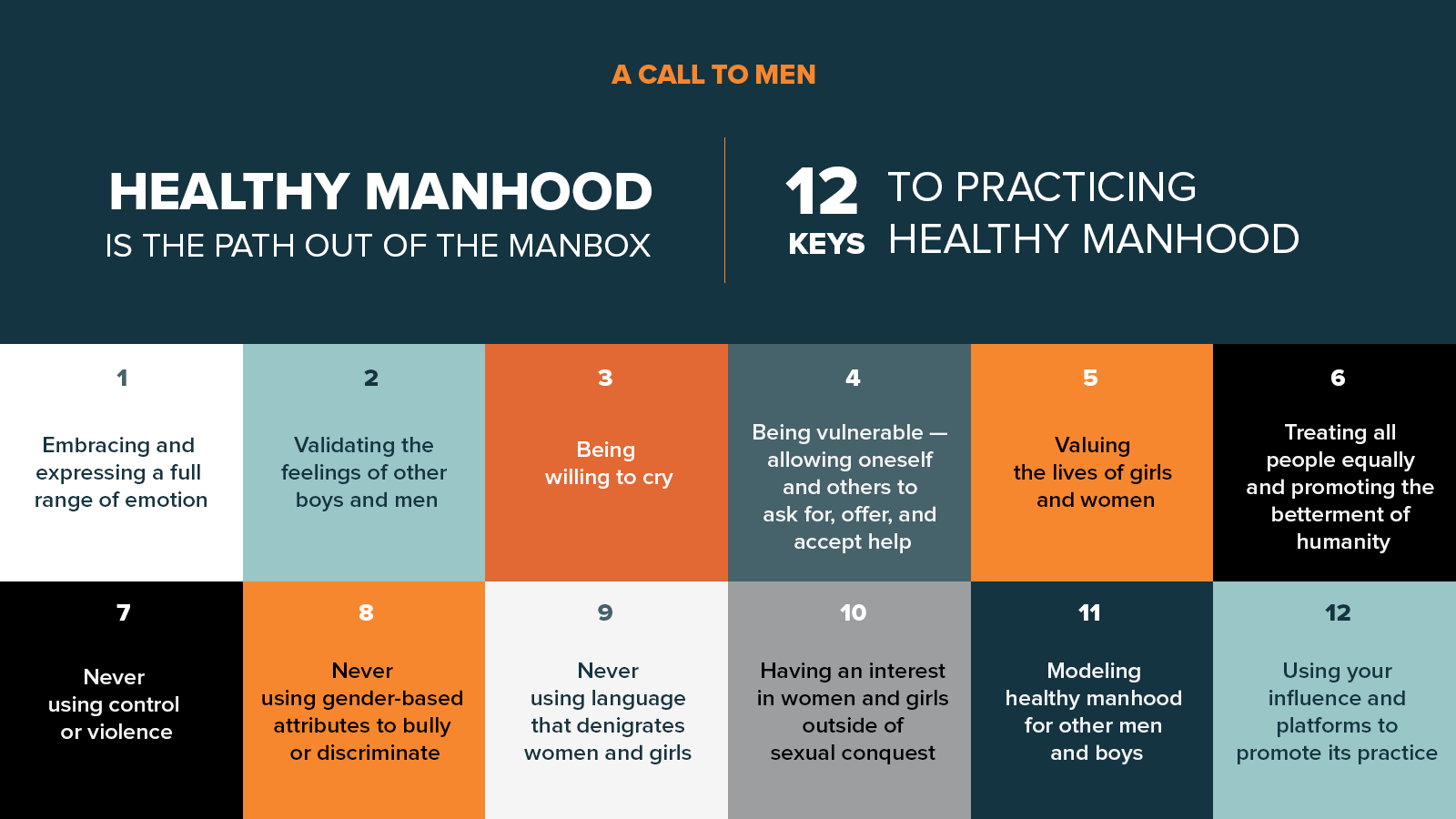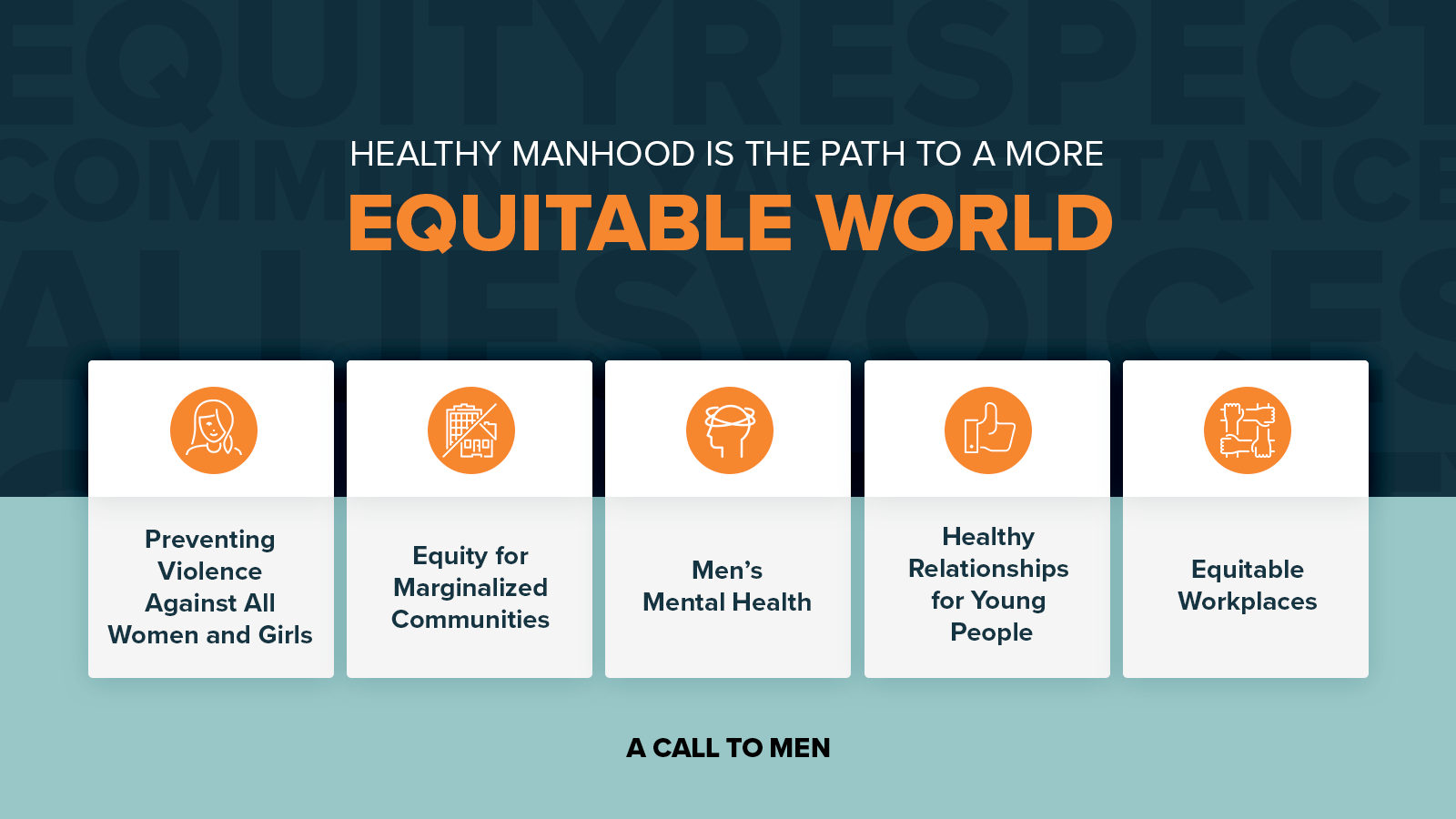 Preventing Violence Against All Women & Girls
Man Box culture has allowed the ongoing epidemic of violence against women and girls to persist throughout human history. 
Research by the World Health Organization shows that men and boys who adhere to rigid, traditional notions of masculinity are more likely to report having used violence against a partner.
Historically, women have been at the forefront of addressing gender-based violence. We must continue to center the voices of women, but we also know that gender-based violence is most often committed by men, and it is essential that men are active in the solution.
image-left

"If women could end violence against women and girls by themselves, they would have done it already."

Tony Porter
Equity for Marginalized Communities
Our work at A Call to Men seeks to address intersectional oppression at its roots. We intentionally look to those at the margins of the margins to articulate their own lived experience and to define solutions that will be effective in their lives.
It is our belief that all people benefit when we focus our attention and efforts on historically oppressed groups. This philosophy holds true for any anti-oppression work, whether it be sexism, racism, classism, heterosexism, ableism, or ageism.
image-right

"If we center the voices of those at the margins of the margins, we can eradicate injustice at its roots. And when we truly dismantle oppression, we all benefit."

Lina Juarbe Botella, Director of Community Engagement
Improving Physical & Mental Health for Male-Identified People
The Man Box is killing us. The American Psychological Association released first-ever guidelines showing that traditional masculinity is harmful and that socializing boys to suppress their emotions causes damage that echoes both inwardly and outwardly. The statistics tell the story:
Healthy Manhood is the solution to this crisis of men's mental and physical health. When we break out of the Man Box, we embrace a full range of emotions, we ask for and accept help, we strengthen our network of connection and support — and we live longer.
Gender Equity and Violence Prevention for Youth
Young people are committed to change and are taking a leadership role in building more equitable societies. In the U.S., more millennials believe in gender equity than any generation in history.
But we have a long way to go — gender-based violence, sexual violence, bullying, and stalking are still prevalent in middle schools, high schools, colleges, and universities. One in nine teen girls in the U.S. report experiencing dating violence each year.
By introducing the concepts of healthy manhood to teens and young adults — and by amplifying the voices of young leaders on these issues — we can support and accelerate the creation of a safer, more equitable world.
Power & Equity In the Workplace
Every single day, female-identified people face discrimination, harassment, and inequity in the workplace. Despite significant gains, positions of power in our businesses, government organizations, and NGOs are still predominantly held by men. 
Most corporations have their own version of women's leadership and diversity and inclusion initiatives, which are valuable and much needed. But unless they are providing intentional education for the dominant group (primarily white, cis-gendered men in positions of power and leadership), they will not achieve meaningful culture change.