What It Will Take to Create a More Just World Post-Pandemic
The global coronavirus pandemic has deeply affected the nonprofit world. Organizations like ours have been halted by the mandate for physical distancing and we are unable to provide in-person trainings and education. Organizations that serve vulnerable populations — like domestic violence shelters and mental health providers — are facing incredible increases in demand for services without a matching increase in funding to make it all happen. At the same time, we are experiencing a great awakening to racial inequities, many of which have been exacerbated by the pandemic. There is an urgent call for nonprofits to advocate for racial justice.
Yet with all that's being asked of our organizations, 96 percent of nonprofits worldwide report negative impacts related to the virus — from decreases in funding and issues with client relations to staffing disruptions and increased costs. A recent report outlined how "nonprofits represent a $200 billion industry that touches the lives of more than 1 in 5 Americans, including: housing more than 200,000 elderly Americans, providing homes to 670,000 foster children, and serving food to 46 million people through food banks." That same article called the pandemic "an extinction-level event for America's nonprofits."
Nothing can compare to the devastating loss of human life that we are experiencing because of the virus, but the death of life-changing and essential nonprofit organizations is imminent. I'm issuing a cry for help to philanthropic leaders. Here's what you can do: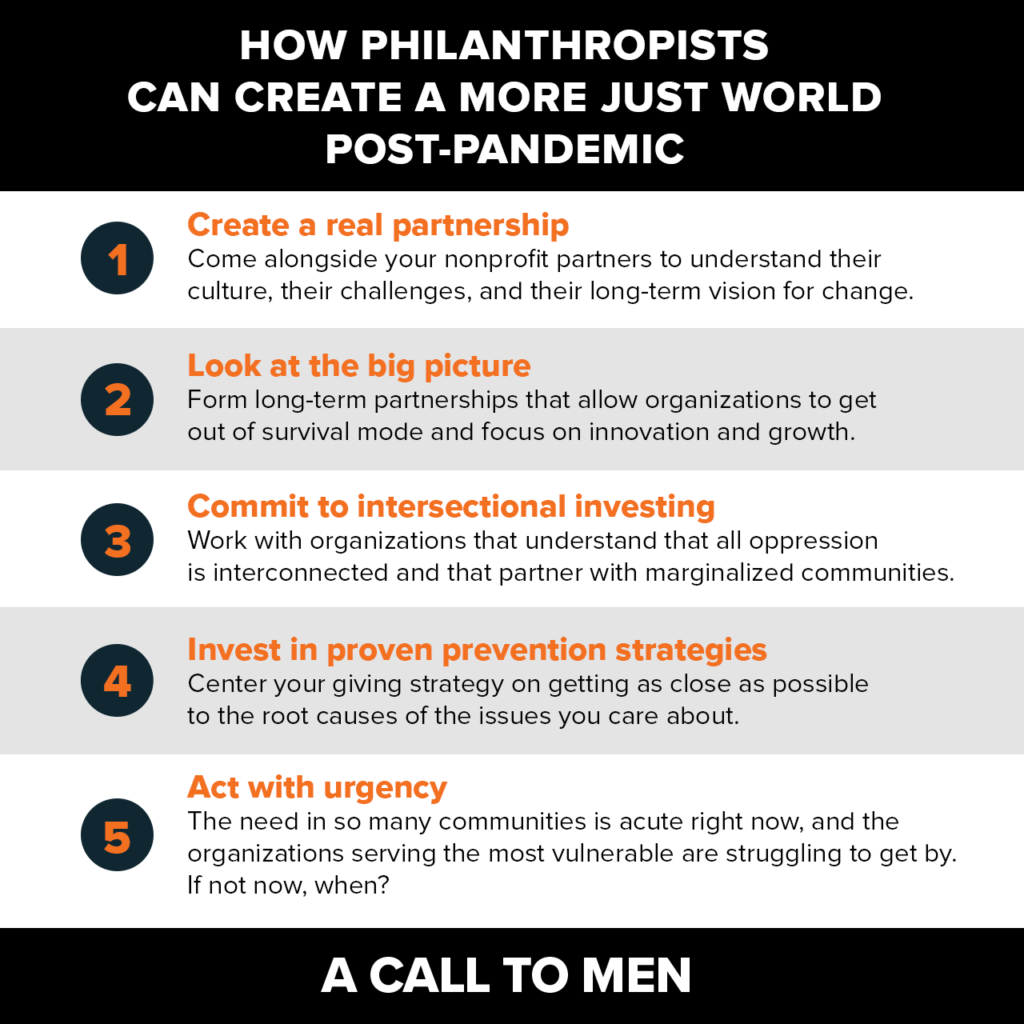 Create a real partnership. Come alongside your nonprofit partners to understand their culture, their challenges, and their long-term vision for change. Let's be real — many nonprofit leaders are scared that funding will be pulled if they don't adequately measure progress month to month. Valuing how we achieve change and the climate in which we operate will make you better investors and partners in the work.
Look at the big picture. Rather than solely focusing on programmatic funding, evaluate a nonprofit's worthiness based on their strategic plan and their ongoing programmatic outcomes. Invest in the work they are already doing, rather than mandating additional deliverables. The National Council of Nonprofits reports that only 25 percent of organizations have six months of cash on hand, and the vast majority have less than three months cash to keep them operational. Most of us need operating funds to allow us to focus on innovation, research-based validation, and cultivating long-term partnerships, but so often we are stuck in survival mode.
Commit to intersectional investing. This pandemic has forced everyone to confront the systemic inequities that allow those who are most oppressed to suffer disproportionately. It's an undeniable reality that we, as a society, cannot look away from any longer. At A Call to Men, we intentionally look to those "at the margins of the margins" to articulate their own lived experience and help define solutions that will be effective in their lives—so that we can be better aspiring allies in working for equity. When we center our attention and efforts on those "at the margins," it's our belief that everyone will benefit. This philosophy holds true when you are working to dismantle sexism, racism, classism, heterosexism, ableism, or ageism. That's what we need now—a margins approach.
Invest in proven prevention strategies. As you evaluate your giving strategy, make sure that you are looking at the root causes of issues you care about. If animal cruelty is a priority issue, invest equally in organizations intervening to help animals in need and organizations working to prevent the abuse in the first place. If your family was affected by a chronic disease, invest equally in organizations that help folks cope and in organizations dedicated to disease prevention and promoting health and wellness. If we want to eradicate issues that debilitate our society, the smart money is on prevention.
Act with urgency. So many of us are laying off staff, slashing salaries, transitioning programming and outreach online, and desperately trying to serve those in need. And they are doing so with less funding, less support, and less people power, while managing their own personal fears anxieties, and risks. So, I ask, if not now, when?
As nonprofit leaders, we remain committed to serving our communities. We are committed to survival. And we see this moment as an opportunity for transformation. We are grateful to have philanthropic leaders come along side us as we work to create a more just world post-pandemic.
If you'd like to take a deeper dive into these topics, I encourage you to watch our October 2020 community conversation featuring two incredible philanthropic leaders – Ana Oliveira, of the New York Women's Foundation, and Suzanne Lerner, of Michael Stars, Inc.