Healthy Masculinity and Dating Apps
Are you ready to become the ultimate relationship MVP? We know that success is in your DNA, and that's why we're here to support you on how to win in your relationship journey. We're not talking about a quick sprint here — we're talking about a consistent strategy of building healthy and meaningful relationships that meet your goals.
Have you talked with your friends recently, or ever, about your well-being or healthy dating practices? The American Psychological Association released first-ever guidelines showing that traditional masculinity is harmful and that socializing boys to suppress their emotions causes damage that echoes both inwardly and outwardly. Feeling comfortable having these conversations is crucial to your well-being and creating more positive relationships. 
Everyone has different experiences, boundaries and expectations of what it means to be in a healthy relationship. Our partners at Match Group just launched a partnership with Aly Raisman aimed at normalizing conversations around our diversity of dating experiences and setting boundaries for ourselves and others to help foster more meaningful relationships. Raisman led a Q&A discussion with Tasha Menaker, Match Group Director of Social Advocacy, and A Call To Men's Chief Development Officer Ted Bunch, which focused on stigmas associated with male vulnerability, how experiences and backgrounds impact behaviors in relationships, and how positive self-worth can drive meaningful connections.
Feeling empowered to have these conversations with friends and partners starts with open dialogue and having  tools to help create more positive relationships. We teamed up with Match Group to provide tips on how to build more meaningful connections including information below on creating boundaries, prioritizing self-worth and setting relationship expectations. 
Have you been struggling with your dating experiences? Maybe it's time to take a step back and reassess your approach. Remember, not every person you meet will be a perfect match, so try not to take a lack of interest personally. Wish them well and be open to new possibilities. It's important to set realistic expectations and remember your self-worth — highlight your interests and passions to attract someone who shares them. Remember to check your dating profile and make updates that reflect who you are today. And if you're feeling rejected by someone, don't worry — not every connection will lead to a real-life meet-up, and that's okay. Relationships take time to develop, and sometimes it's best to move on and explore other options.
Are you looking to build meaningful connections with people who share your interests? It's important to be intentional about what you want and take the time to get to know someone by asking questions. Treating others respectfully is crucial in attracting the right people into your life. Remember to treat others the same way you want to be treated. When we show genuine interest and value in the person, it increases the likelihood that good things will follow.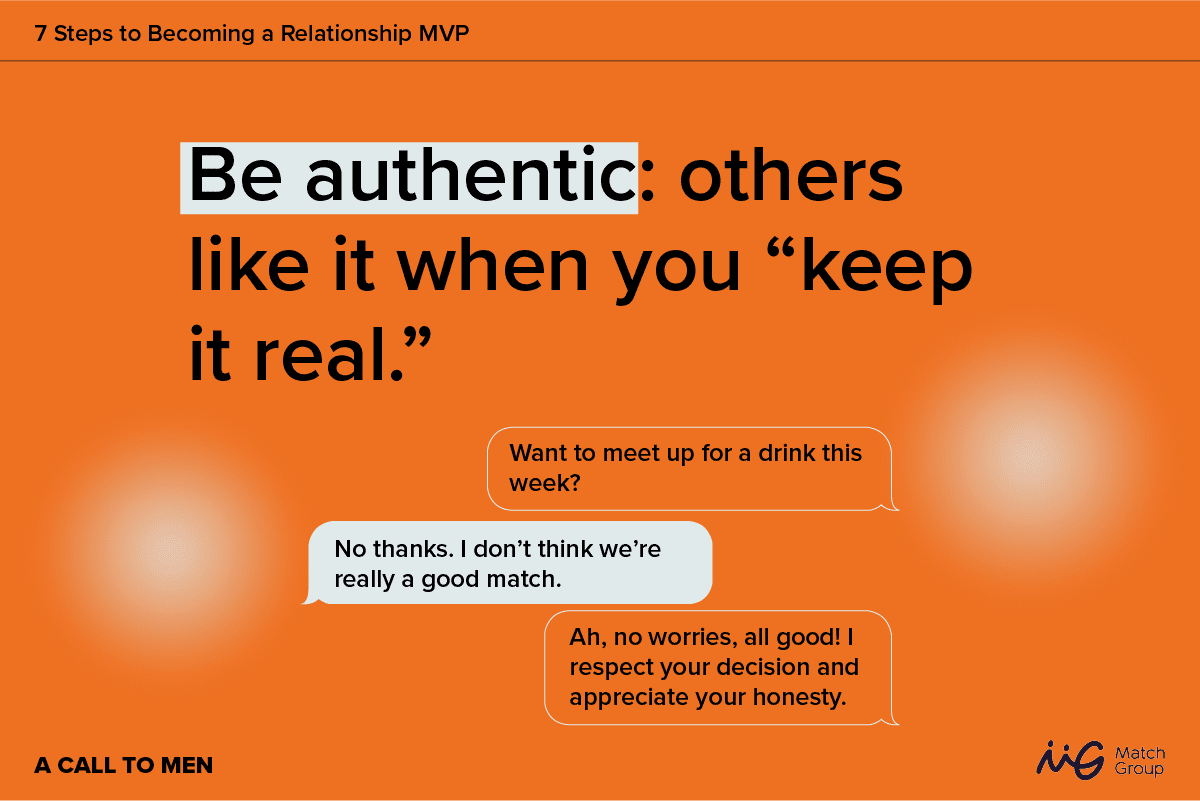 Taking care of yourself is also an important part of the equation. Self-love and self-respect come from within and are not tied to how others perceive you. It's essential to recognize your value and protect your sense of well-being. 
Taking care of yourself means balancing your life and prioritizing your mental, emotional, and physical health. This includes setting boundaries, practicing self-compassion, and engaging in activities that bring you joy and fulfillment. These things not only benefit you but are also important when establishing a healthy relationship.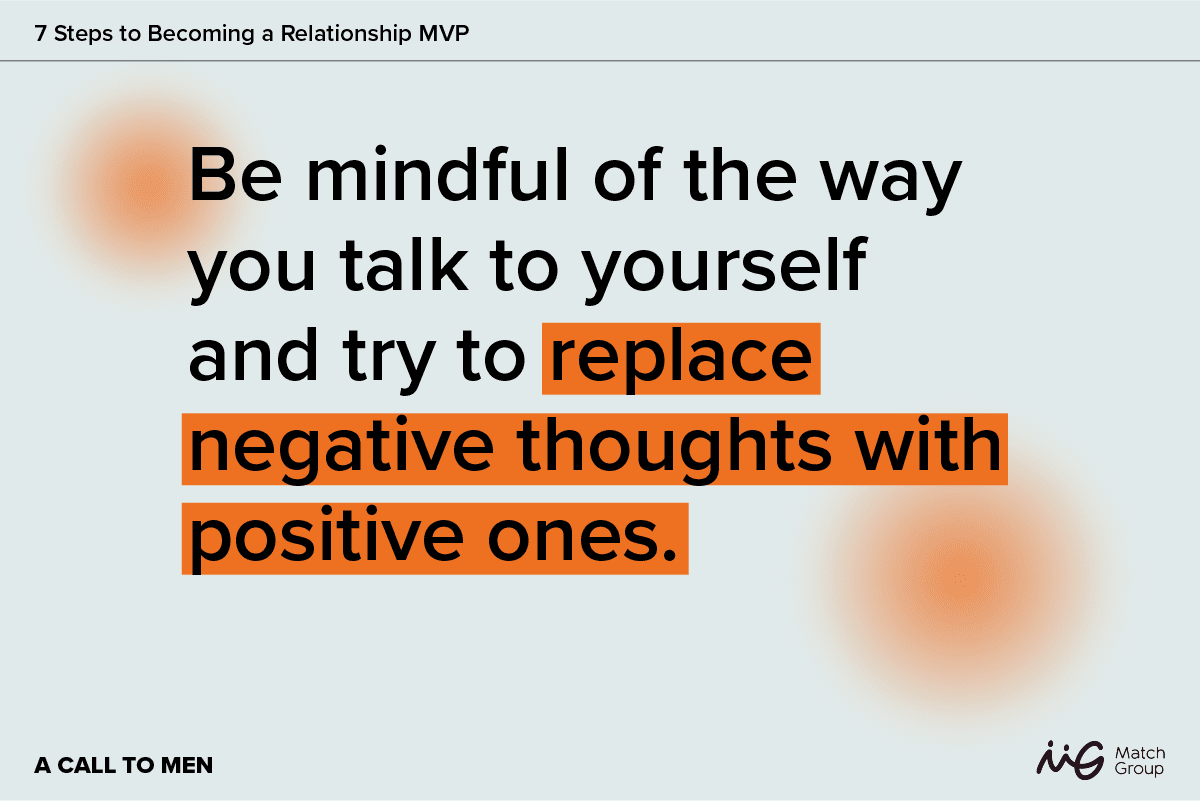 Engaging in activities that support your well-being can help boost your confidence and self-esteem, which can make you more attractive to others. When you take the time to take care of yourself, you'll likely find yourself better equipped to approach dating with a positive and healthy mindset.
Have you ever had a question that you were too afraid to ask? Whether it's about self-care or what someone else is feeling, you'll likely find that most people are open to talking about just about everything when the question is asked genuinely. However, there is a stigma for men about asking questions. Well, we need to change that to foster healthier relationships.
Asking someone about themselves allows you to get to know them better and demonstrates your genuine interest in their interests, aspirations, and desires. So lean in!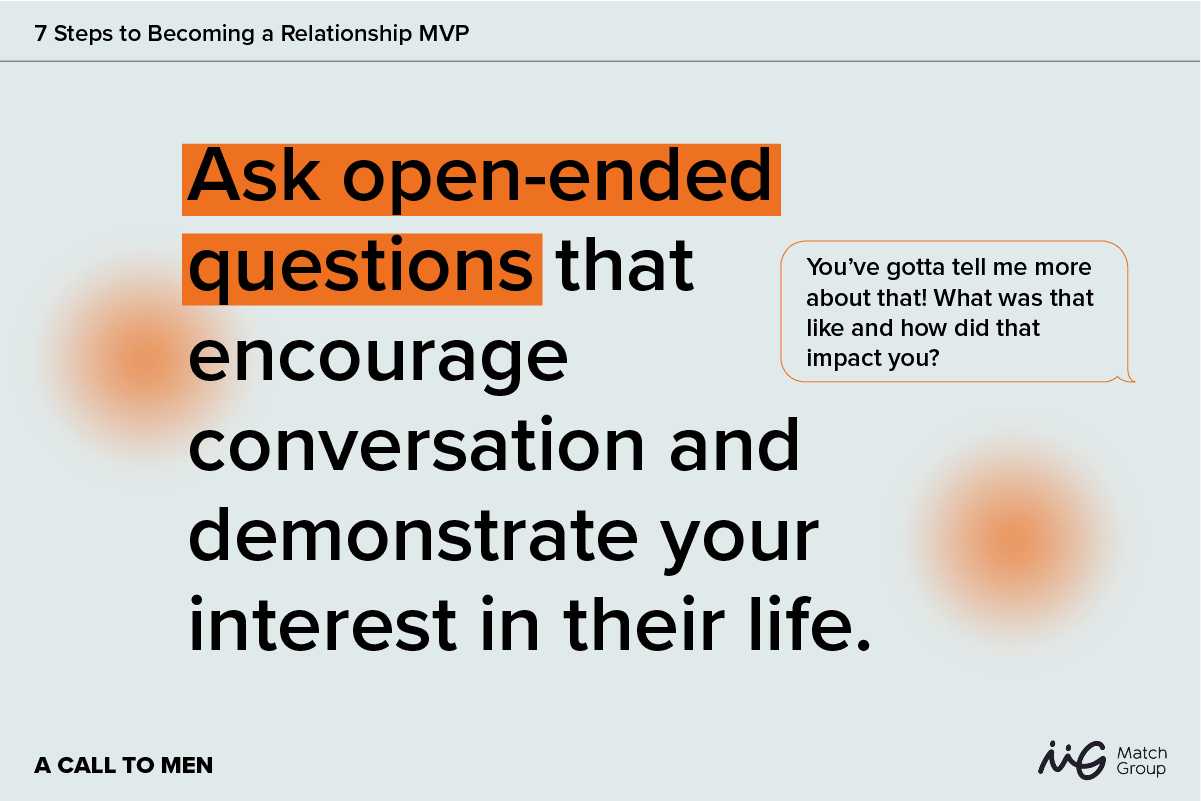 We all know we need to ask for consent before engaging in any kind of physical activity. We also need to ask for permission when asking personal/intimate questions. Whether it's a question online or consent in person, respectful boundaries and communication will create a more intimate and enjoyable experience for everyone involved.
And remember, if you are going through something, you don't have to do it alone. It's ok to ask for help. This is another stigma that we need to break. Whether it's talking to friends, a family member, or a counselor or therapist, almost everyone has struggled with something.
Watch the Q&A between Aly Raisman, Tasha Menaker, Match Group Director of Social Advocacy, and A Call To Men's Chief Development Officer Ted Bunch.
Download our Guide to Becoming a Relationship MVP below.