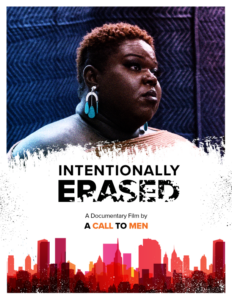 2021 was the deadliest year on record for transgender and gender non-conforming people – with 50 violent fatal incidents tracked by the Human Rights Campaign. In the past several years, we have also seen an unprecedented number of bills introduced in state legislatures attacking transgender youth and trans adults. The rise of violent, dehumanizing rhetoric has devastating consequences for the transgender community – especially for Black transgender women and transgender women of color. 
At A Call to Men, we know that our collective liberation is linked – that none of us is free until all of us are free, including and especially those among us who are the most marginalized. The moment we are in is clear – as aspiring allies, we must commit to centering and uplifting the humanity of Black trans women to neutralize the threats being leveled against them, and promote a healthier, more inclusive society for all people. 
"Intentionally Erased" is a new documentary from A Call to Men aiming to do just that by spotlighting four Black trans women in conversation with Black cisgender men. What follows is a series of honest, heart-wrenching interactions that uplift the experiences, challenges, and humanity of Black trans women in the United States. The film had its world premiere on Monday, September 26th, at the Out On Film festival in Atlanta, GA. 
"Intentionally Erased" was co-written, directed, and produced by A Call to Men's Chief Communications Officer
Kimya Motley
– an educator and activist working to end violence against all women and girls. Inspired by the work of Tony Porter and A Call to Men (in addition to her own experiences as a survivor of gun violence and domestic abuse), Kimya directed, co-wrote, and co-produced this absorbing documentary to identify and deconstruct the biases against Black trans women. 
"I made this film to foster a greater understanding of the experiences of Black trans women, to uplift the humanity of Black trans women, to expand awareness about the violence levied against Black trans women, and, ultimately, to reduce that violence in any way possible," says Motley. "Each and every one of us need to be invested in centering and supporting those folks living at the most extreme margins of society."
The Cast
Support "Intentionally Erased"
Please consider helping to spread awareness for "Intentionally Erased" by reaching out about hosting a screening in your city, sharing the trailer with your network, or making a donation to fund our efforts to prevent violence against all women, girls, and those at the margins of the margins.
Hear the Buzz About "Intentionally Erased"
The reviews are in! Find out what people have to say about this absorbing documentary.