Five ways parents & educators can support young people in turbulent times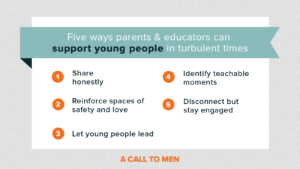 We are living through multiple intersecting crises and turbulent times — and engaging young folks in your life in the hard conversations about the state of the world will only help them grow, and help strengthen your relationship. The young leaders of YouthACT! helped us put together five tips for parents & educators:
Share honestly: If young people ask about what's happening, open the door for a conversation. Avoiding tough topics doesn't shield them from reality.
Reinforce spaces of safety and love: Young people are living through the stresses and pain of a pandemic, racial unrest, and relentless televised violence. They may be internalizing emotions and could use extra attention and care.
Let young people lead: Don't force the conversation. Let them lead the discussion with their questions and perspectives.
Identify teachable moments: Center those on the margins of the margins in conversation. Which perspectives are being televised? Whose voices are missing?
Disconnect but stay engaged: Allow space for young people to disconnect from the news and conversations of current events but stay engaged to their emotions and safety.