Women in Athletics Need More Visibility
Muffett McGraw, the University of Notre Dame's long-time head basketball coach, made national headlines for her comments about members of her coaching staff during the 2019 NCAA Women's Final Four. When asked by a reporter if she would ever hire a male assistant coach again, her response was "No." Reactions to her comments ranged from support and applause to complaints of reverse discrimination. Her reasons for her response are crucial for the development of future female coaches and leaders.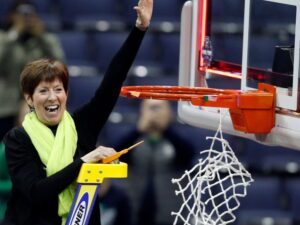 "I'm getting tired of the novelty of … the first female governor of this state. The first female African-American mayor of this city," she said. "When is it going to become the norm instead of the exception? How are these young women looking up and seeing someone that looks like them, preparing them for the future? We don't have enough female role models. We don't have enough visible women leaders. We don't have enough women in power." –NPR
Coach McGraw, whose team took the 2018 NCAA Women's Basketball title, goes on to question why only 59 percent of coaching positions on women's college basketball staffs are occupied by women. By comparison, there is one woman on all of the 351 NCAA Men's basketball staffs. One. If we can't see women coaches, CEOs and Presidents, then we will continue to have fewer women in positions of leadership. Representation matters, especially when we tell young women and girls they can be anything they want. Yes, they can. Yet, if they can't see it, they can't be it.
In athletics and beyond, we must choose to hire staff members for positions that best reflect the groups they are working for and with. For example, as a cis-gendered man, I will not be a head coach to any teams our daughters choose to join. It's not because I lack the skills or abilities to coach girls/young women. It's because I choose to advocate for the hiring of female coaches and provide mentorship (when asked) to women who are interested in sharing their time and skills teaching the next generation of female leaders.  My role is operating behind the scenes to ensure visible leaders reflect the community they are engaging with. When a position within my organization becomes available, my responsibility is to the women who would positively influence an organization. Through talking with the administrators or hiring committee members and writing letters of support for female colleagues, my power is best utilized advocating for women. Because I am a man, people listen to me. In these times, I am choosing to use that privilege for change.
Athletics is a vehicle for developing life skills that benefit individuals who will positively influence their communities and organizations. My wife and I have encouraged our daughters, Jaylen (age 9) and Jensen (age 5), to participate in team sports through the YMCA and their schools. We believe they will benefit from hearing the voices of and following the leadership of other women who are teaching and leading in transformational ways. The more examples of strong, healthy women they have, the more possibilities that will be open to both Jaylen and Jensen. If they can see it, they can be it!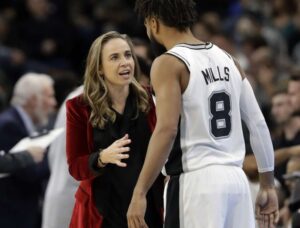 Other ways men can advocate for women and help them be more visible in athletics include the following.
As a head coach, men can create coaching roles on your staff for women assistants, regardless of the gender of the athletes on your team.

As a male coach, talk with other men (athletic directors, principals, high school coaches, travel/club coaches, YMCA and other private organizations such as Upward Sports) about hiring women for open jobs coaching youth teams.  Men will listen to other men.

As a coach, host a sport-specific clinic for mothers or female caregivers that provide fundamental information to help them understand the game their children are participating in and share your coaching philosophy.

When watching sports on TV with other men, be vocal about what you appreciate about female commentators and analysts.  Men need to hear other men validate women's voices.

Read and share sports articles by female reporters and contributors.  Speak their names when talking about sports reporters.

Subscribe to podcasts by women in sports, such as Strong Opinions Loosely Held, Burn It All Down, and On Her Turf to directly hear about experiences women have in sports culture.