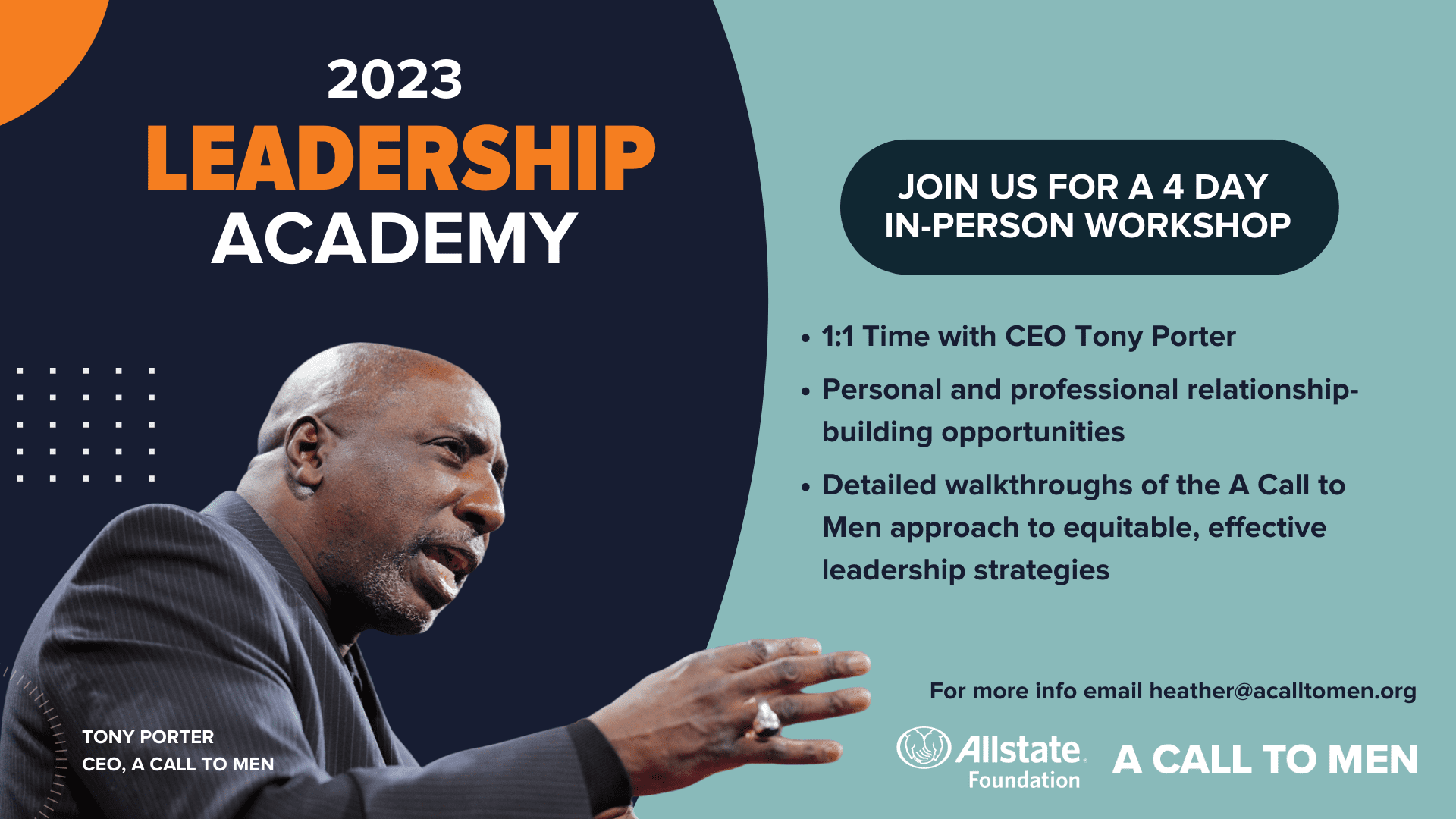 Join the A Call to Men leadership team, August 14 – August 17, 2023, OR October 2 – October 5, 2023, for our new Leadership Academy—an in-person, game-changing convening informed by the foundational principles of A Call to Men. This gathering is for current leaders – C-Suite executives, founders of organizations, executive directors, directors, managers, and communications executives – interested in deepening their knowledge and ability to engage men and boys in promoting healthy manhood and preventing violence against all women and girls. This unique and engaging workshop will provide the skills, tools, and resources needed to succeed in gender justice, racial justice, social advocacy, and violence prevention work. Our experienced staff will provide a behind-the-scenes look at the "A Call to Men way" of leadership. Over the course of four days in Charlotte, NC, a limited group of 25 participants will:
Garner tools for success in the field of prevention, social advocacy, and racism & ageism work from A Call to Men CEO Tony Porter.
Receive personalized guidance and empowerment throughout the Academy from experienced staff members in every department.
Learn strategies and skills to deepen your compassion, knowledge, and effectiveness as a leader.
Apply Today – Only 25 spaces are available per cohort!
When completing the application, please be sure to answer all required questions. Note: a submitted application does not guarantee attendance at the A Call to Men Leadership Academy. All applications are subject to approval.
Upon acceptance of the Leadership Academy, you will receive a link for payment and additional information from Heather Brame regarding your lodging reservations. The cost for the Academy is $500 (this price does not include lodging and travel; however, we have reserved a hotel block at the Homewood Suites at Southpark where the convening will be taking place.)
For additional questions, please reach out to Heather Brame — heather@acalltomen.org or 917-584-5466.