A Call to Coaches – Nov. 9th Huddle Up with NFL's Terry Bradden, Jr.
This event is now closed.
You are invited to join us for our first-ever A Call to Coaches Huddle Up on Thursday, November 9th at 7pm ET—facilitated by Troy Vincent, Sr. (NFL Executive Vice President of Football Operations), Tony Porter (CEO of A Call to Men), and Mike Daniels (NCAA coach).
We're also excited to announce Terry Bradden, Jr.—Assistant Defensive Line Coach for the Kansas City Chiefs, as our guest speaker for this month's Huddle Up!
This is a virtual space curated by coaches for coaches to learn, connect, and recognize their role in molding boys and young men into responsible and respectful individuals. This 30-minute community convening will provide coaching professionals with the resources to support the holistic development of themselves and their players. Coaches, athletes, violence prevention advocates, and community members will come together on Zoom to educate coaches on healthy, respectful masculinity and offer tools to nurture these values in others—both on and off the field.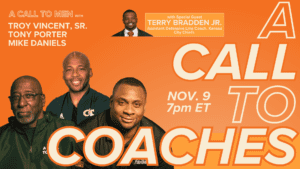 Register for our November 9th Huddle Up:
Join the A Call to Coaches Community