Book of Dares: 100 Ways for Boys to be Kind, Bold, and Brave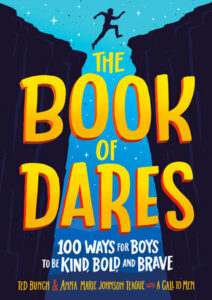 Society is in a moment of great transformation, with much focus on the evolution of masculinity. Parents of boys are confronted with terms like "toxic masculinity" and "male privilege" and the headlines are dominated with stories about men behaving badly. But being a boy is a wonderful thing. To make every boy's lived experience the best it can be, we have to be intentional about encouraging their authenticity, helping them develop empathy, educating them on healthy relationships, promoting emotional literacy, and supporting social-emotional learning. In a transformational moment for our global society, we must also support our boys in their learning and commitment to racial and gender justice and in working to center the voices and experiences of those at the margins of the margins.
After 20 years of working with and educating men and boys, we know that healthy manhood is the solution. It's the antidote for some of the most destructive problems in our society. We've turned pillars of healthy manhood into 100 dares that support boys' authenticity and advance gender equity. Sample dares include:
•  Dare to prove a stereotype wrong
•  Dare to watch a movie about someone who's different from you
•  Dare to ask a friend to teach you something they're good at
•  Dare to be a leader
---
Book of Dares Discussion Guide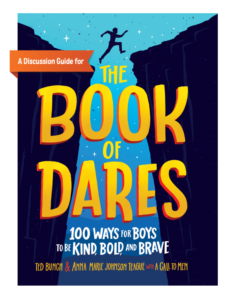 The Book of Dares is meant to be a conversation starter with young folks in your life. Whether you have the book in your hands yet or not, download our Discussion Guide to help you spark discussions, connection, and growth.
The guide includes an overview of the book, some tips for using the book with your kids, your students, and your mentees, and discussion questions to build on the dares in the book.
What's Your Dare?
What dares would you add for boys to be kind, bold, and brave? Add yours below — we're sharing responses on social media and could include yours in a future edition of the book.