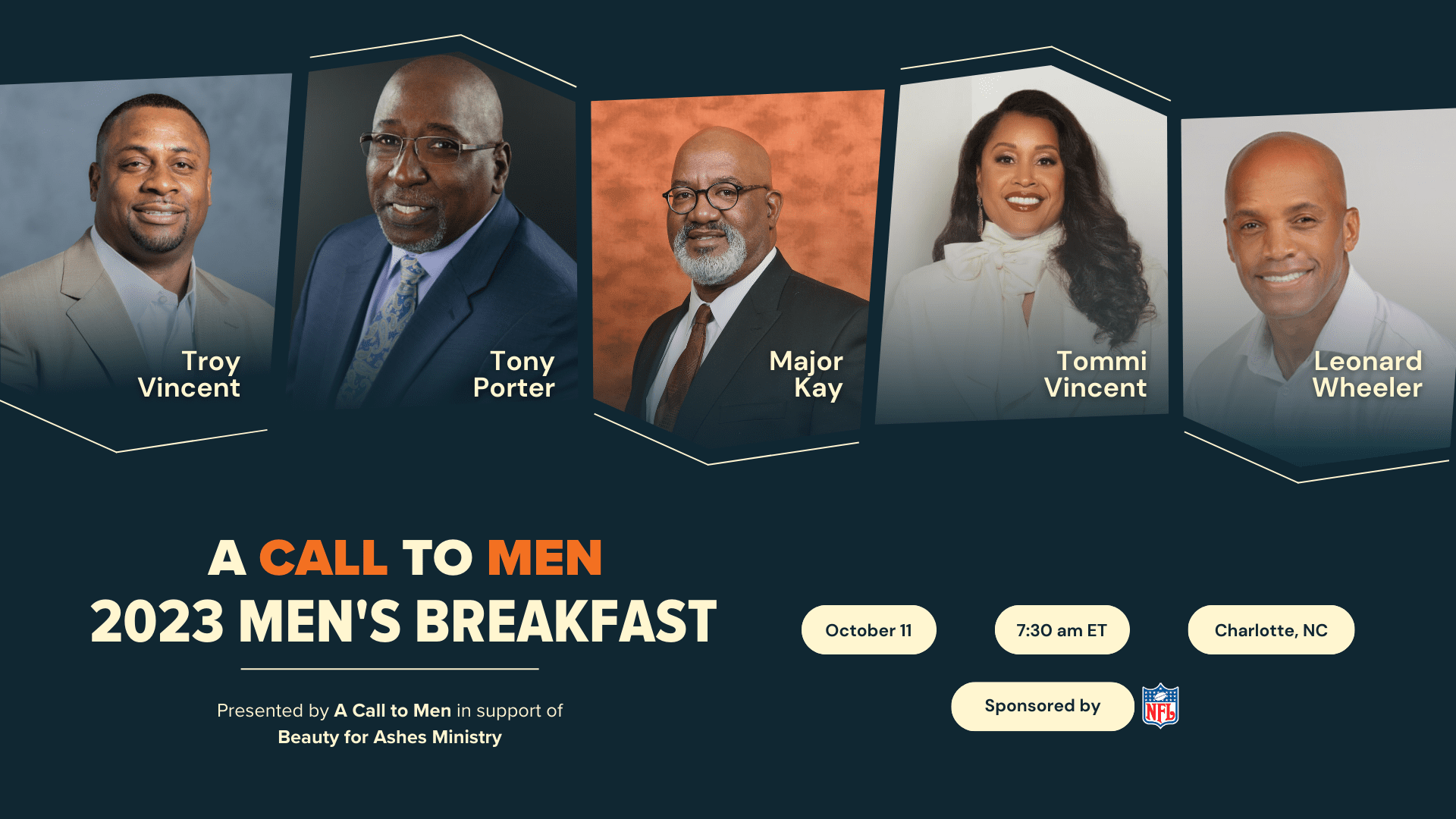 This event is closed.
You're invited! Join us on October 11th, 2023, in Charlotte, NC, from 7:30 am to 10 am ET, for a breakfast celebration in honor of Healthy Manhood and in service of building healthier, more authentic communities. In support of Beauty for Ashes Ministry, our 2023 Men's Breakfast will bring together over 300 national, state, and local leaders and influencers who share a common goal: to foster open dialogue about promoting healthy manhood and eradicating violence against women and girls.
This in-person gathering will feature esteemed panelists and special guests — including athletes, local government and elected officials, business leaders, and more. Together, we will explore practical solutions and actionable steps to challenge harmful norms and redefine masculinity in ways that respect and empower everyone.
Attendees for Men's Breakfast 2023 will have the opportunity to:
Engage in thought-provoking, in-person discussions on pressing issues surrounding gender equality and violence prevention.
Network with like-minded individuals and influential leaders from various sectors and backgrounds.
Gain valuable insights from the experiences and perspectives of renowned experts in the field.
Collaborate on innovative strategies to promote healthy manhood and foster positive change in your community.
Our speakers for this event include:
Troy Vincent – Executive Vice President of Football Operations, NFLTroy Vincent is a respected figure in the world of American football, both for his prowess on the field and his impact off of it. In his current role as Executive Vice President of Football Operations for the NFL, Vincent is responsible for overseeing all aspects of the league's football operations, including game rules, officiating, and competitive fairness. His passion for the game is matched only by his commitment to building safer, more equitable communities for all people, and he has proven himself time and again to be a tireless advocate for safe, inclusive, and authentic communities.
Tommi Vincent – Philanthropist and equity advocateTommi Vincent is a multi-hyphenate and dynamic visionary. She is dedicated to assisting women, children, and families about how to use their personal gifts as powerful, practical tools designed to help them identify healthy lifestyles in mind, body, and soul as productive members of thriving communities.
Tony Porter – CEO, A Call to MenTony Porter is an author, educator, and activist working to advance gender and racial justice and create a more equitable society. Porter is internationally recognized for his efforts to prevent violence against women while promoting a healthy, respectful manhood. He is a leading voice on issues of manhood, male socialization, and preventing violence against all women and girls. Porter's 2010 TED Talk has been named by GQ Magazine as one of the "Top 10 TED Talks Every Man Should See."
Leonard Wheeler – Co-Executive Director for the NFL
Leonard Wheeler, an 8-year NFL veteran and Co-Executive Director for the NFL, has dedicated over two decades to personal and executive coaching, emphasizing mental preparedness and wellness. As the founder of TRILUCENT Global, Inc., he champions emotional intelligence, leadership, and human development, collaborating with industry giants such as Sonic Automotive and Deloitte. A published author, hall of famer, and advocate for social impact, Leonard's journey from the football field to global advocacy underscores his commitment to creating lasting change.
Major Kay – Spiritual and community leaderA Charlotte native and retired detective with 30 years of service at the Charlotte Mecklenburg Police Department, Major Kay has devoted himself to men's spiritual and ethical development. With a Master of Divinity from Hood Theological Seminary, he is now pursuing his Doctorate in Homiletics and Preaching. He serves as an associate minister and leader of the Men's Ministry at Mount Carmel Baptist Church, where he has been a lifelong member. Committed to living passionately in the word of God, Major aims to empower folks in their journey towards ethical living and community leadership.
Registration for the event is now open, and seats are limited. Secure your spot by visiting our official ticketing page. Note: Breakfast will be served at 7:30 am ET.