A Call To Men's 2020 Mid-Year Impact Report
We're excited to share with you our 2020 Mid-Year Impact Report. We set out a bold strategy in January — and then Covid-19 happened. And then something else happened. The deaths of #AhmaudArbery, #BreonnaTaylor and #GeorgeFloyd — and so many others — sparked a global movement for #BlackLivesMatter. While this has been a traumatic time, the rising up and speaking out and progress on reform is beautiful and inspiring. Out of tragedy, change will come.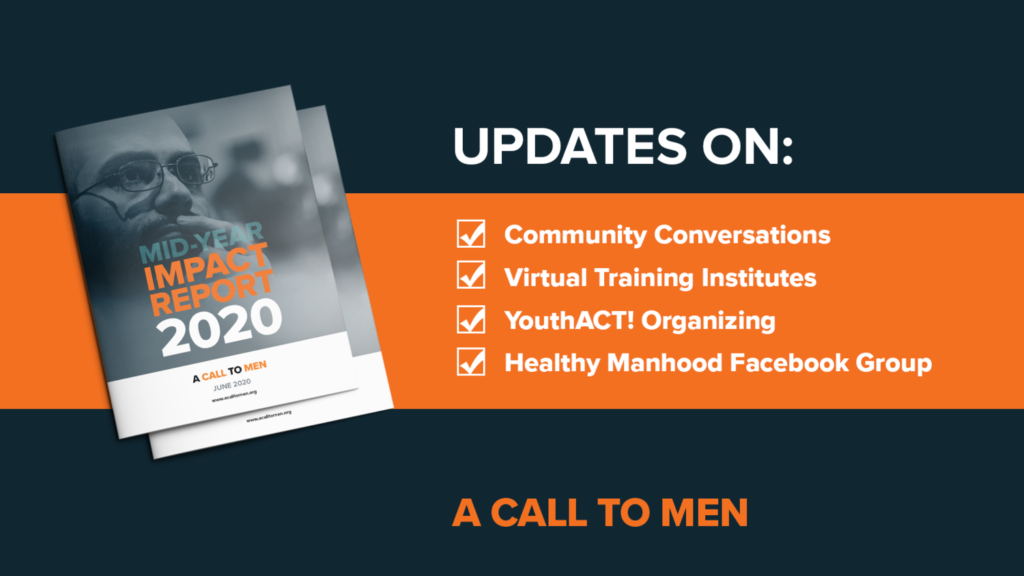 We know that at this moment we can not let Covid-19 stop or slow the transformation that is happening, and we can't pause for a second our role in helping to create a world where ALL men and boys are loving and respectful and ALL women and girls are valued and safe.
Within days of national shelter-in-place orders, we had pivoted all of our trainings and education programs online, and we have been blown away by your response. We've had folks from all over the world in our bi-weekly community calls and our online two-day training institutes. We're training community organizers, professional athletes, corporate executives, and so many others.
It's thanks to the strength of this community that we've been able to keep this momentum and we need you with us as we work day and night to keep it up.
We're thrilled to share our mid-year impact report. And we're not stopping now. Are you with us?