Youth ACT! Accepting Applications for 2021 Cohort
Join Youth ACT!'s 2021 cohort and help promote gender and racial justice in your community.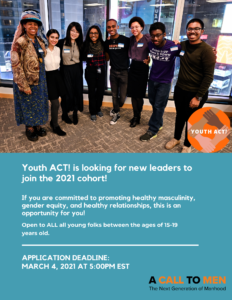 A Call to Men's Youth ACT! centers the voices of young people to promote healthy masculinity, healthy relationships, and prevent gender-based violence. Through creative outreach, education, and community events we take an active role to create a better world for ALL women, girls, men, boys, LGBQ, Trans, and non-binary people.
Selected members will be required to make a year-long commitment which includes attendance at monthly meetings, leadership development workshops, and leading youth trainings. Stipends will be offered. This process is open to all young folks between the ages of 15-19 years old.
Applications closed on 3/4/21. Please contact Josué Argüelles at josue@acalltomen.org or (917) 580-2295 with questions.