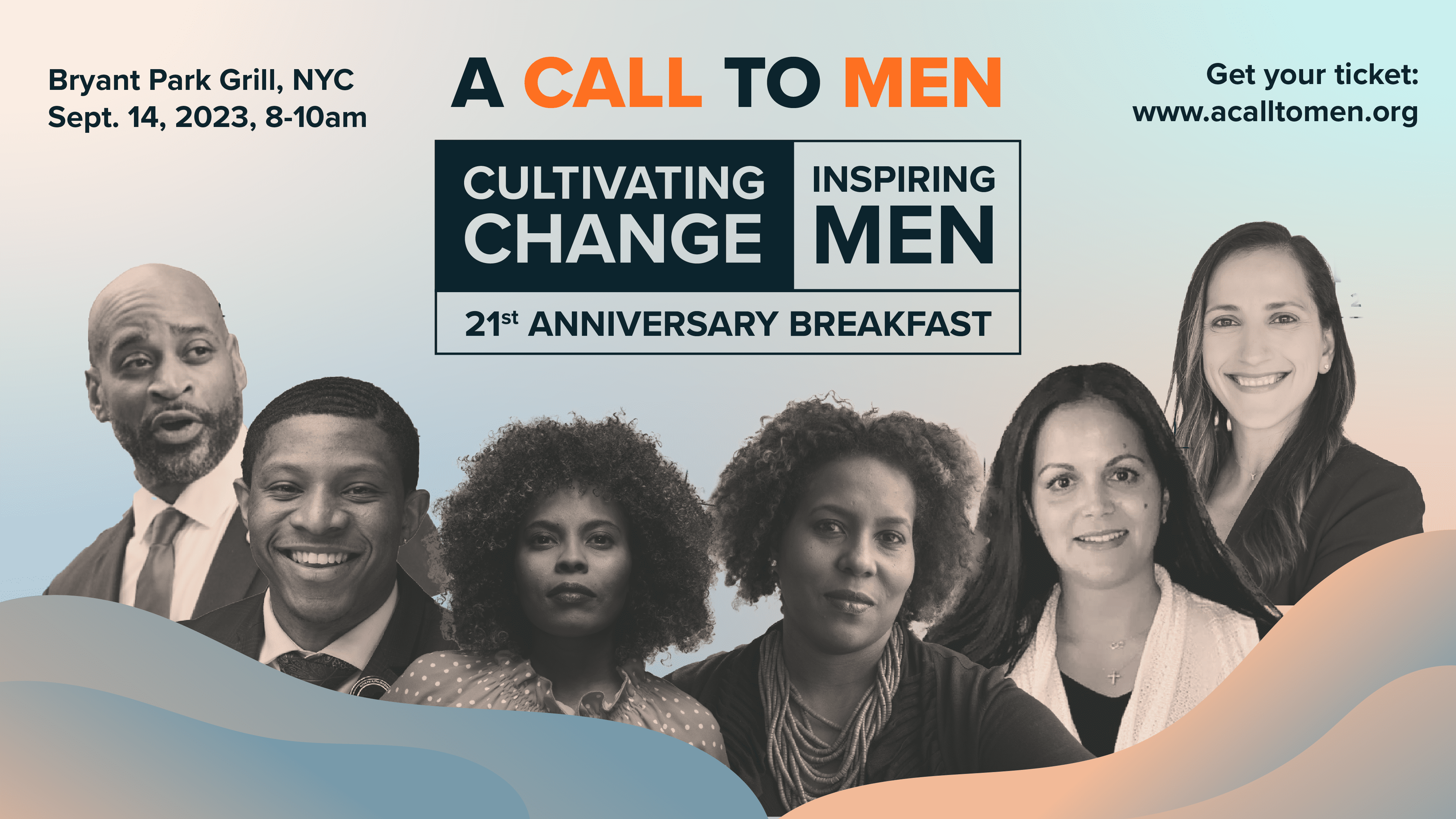 Cultivating Change, Inspiring Men: A Call to Men's Anniversary Breakfast
UPDATE: Registration for this event is now closed. We look forward to seeing you at other upcoming A Call to Men events!
Join your fellow #HealthyManhood enthusiasts for a morning of conversation, connection, and commitment to building a safer, healthier world for all people. We'll be holding our second annual anniversary breakfast on Thursday, September 14th, 2023 at the Bryant Park Grill in NYC from 8:00 – 10:00 a.m ET.
Honorees Include:
Salamishah Tillet— Community Leadership Award
Scholar, author, educator, and activist Salamishah Tillet has been a long-time partner with A Call to Men through the non-profit organization she founded with her sister, Scheherazade—A Long Walk Home. The courage and vision of the organization's co-founding sisters have empowered countless young people to rise up against gender-based violence and affect positive change across the city of Chicago, our nation, and within the work of A Call to Men. We are grateful to be in this work with this wonderful leader, role model, and activist.
Scheherazade Tillet — Community Leadership Award
It is our pleasure to celebrate the talented photo-based artist, curator, and feminist activist, Scheherazade Tillet. She uses her art to explore the themes of Blackness, play, freedom, trauma, and healing and currently serves as the Executive Director of A Long Walk Home, a non-profit she founded with her sister, Salamishah. For the past twenty years, A Long Walk Home has emerged as a leading organization in the United States, using a Black feminist justice approach to combat gender violence and racism.
Leonor Colon — Visionary Award
We are proud to honor Leonor for her commitment to visionary leadership. As a 22-year veteran in the world of Major League Baseball and the Managing Director of International and Domestic Player's Operations, she has used her platform to educate professional athletes and other influencers to "impact our culture with culture" in order to have a more equitable and just society.
Yenifer Fauche — Visionary Award
As Senior Director of Player Programs, Baseball Operations at Major League Baseball, Yenifer has dedicated her time to promoting and encouraging healthier attitudes that value women, girls, and those in the margins. Her visionary leadership within the MLB has helped educate professional athletes and other influencers on the importance of Healthy Manhood as an avenue to prevent all forms of gender-based violence.
Jordan Pierre — Next Generation Leader Award
We are thrilled to uplift rising leader Jordan Pierre—a Master's Program Candidate at Syracuse University Newhouse Public School of Communications. It is rare to witness the brilliance of a young leader unfolding in front of our eyes, but Jordan has given us that chance. Jordan is a thoughtful, caring, and devoted young man with a heart of service who embraces the humanity of all. That is why we have chosen him to receive the Next Generation Leader Award. His 2023 commencement speech, "Being a Black Student," went viral—inspiring many young people across the country to grapple with the reality of what it is like to be a student of color at our nation's higher education institutions.
Aaron T. Barnette — Healthy Manhood Influencer Award
Aaron is a fearless change agent, advocate, and champion for our nation's youth. He has changed the trajectory of tens of thousands of young peoples' lives through his work and leadership as the Deputy Executive Director for the Office of Safety and Prevention Partnerships for the New York City Public Schools—as well as his prior groundbreaking efforts as the Director of Strategic Partnerships and Mentoring Services for the Eagle Academy Foundation.
Show your support for the cause, meet other like-minded folks, and join us in honoring a few of the many leaders who are paving the way for a more loving, inclusive future. Get your tickets before they're gone!