Black Women's Affinity Group
We invite all Black women to join us in co-creating an ongoing Black Women's Affinity group. We'll be meeting once a month (on the 3rd Thursday from 5:30 p.m. – 7:00 p.m. ET) to provide a brave and safe space for Black women to share resources and knowledge, process experiences, hone our skills to combat systemic oppression, network, validate one another, and generate joy. Our sessions will be led by A Call to Men Trainers Dr. Shanita Brown, Annika Leonard, M.B.A., and Afua Addo, MHC.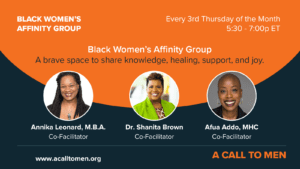 This opportunity is currently open to the public! We are so excited to build something beautiful together – and we're deeply grateful to have you all with us.
Check out our sessions by month below:
Date
Facilitator
Theme/Title/Acknowledgements
Jan 19

Afua/Annika

New Year/New Schedule/Human Trafficking Awareness Month/Stalking Awareness Month

Feb 16

Afua/Dr. B

Black History Month-Centering Our Voices/Teen Dating Violence Awareness Month

Mar 16

Annika 

Women's History Month-Spring Equinox-

 Where We Enter

Apr 20

Afua/Annika

Children's Awareness-Autism Awareness-Arab Heritage/Child Abuse Awareness Month/Sexual Violence Awareness Month 

May 18

Annika

Mother's Day-Asian/AAPI Heritage-Military Appreciation

Jun 15

Afua/Annika

Juneteenth/Pride Month/Black Music Month- Caribbean Heritage-Immigrant Heritage

Jul 20

Annika

US Independence- Civil Rights Awareness

Aug 17

Afua/Annika

Black August

Sept 21

Annika

Hispanic Heritage Month

Oct 19

Afua/Dr. Brown

Native American Heritage/Domestic Violence Awareness Month 

Nov 16

Annika

Harvest

Dec 21

Afua/Annika

End of Year Report-Holidays