Black Women's Affinity Group
We are inviting all Black women who have attended our Training Institute for Gender & Racial Justice to join us in co-creating an ongoing Black Women's Affinity group. We'll be meeting once a month (on the 4th Thursday from 5:30 p.m. – 7:00 p.m. ET) to provide a brave and safe space for Black women to share resources and knowledge, process experiences, hone our skills to combat systemic oppression, network, validate one another, and generate joy. Our sessions will be led by A Call to Men Trainers Dr. Shanita Brown, Annika Leonard, and Afua Addo, MHC.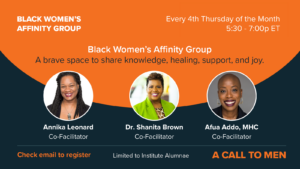 To ensure we are all working from a shared place of understanding and acceptance, this opportunity is currently only open to those who have completed our Training Institute (either virtually or in person). We are so excited to build something beautiful together – and we're deeply grateful to have you all with us.