Career Opportunities – Communications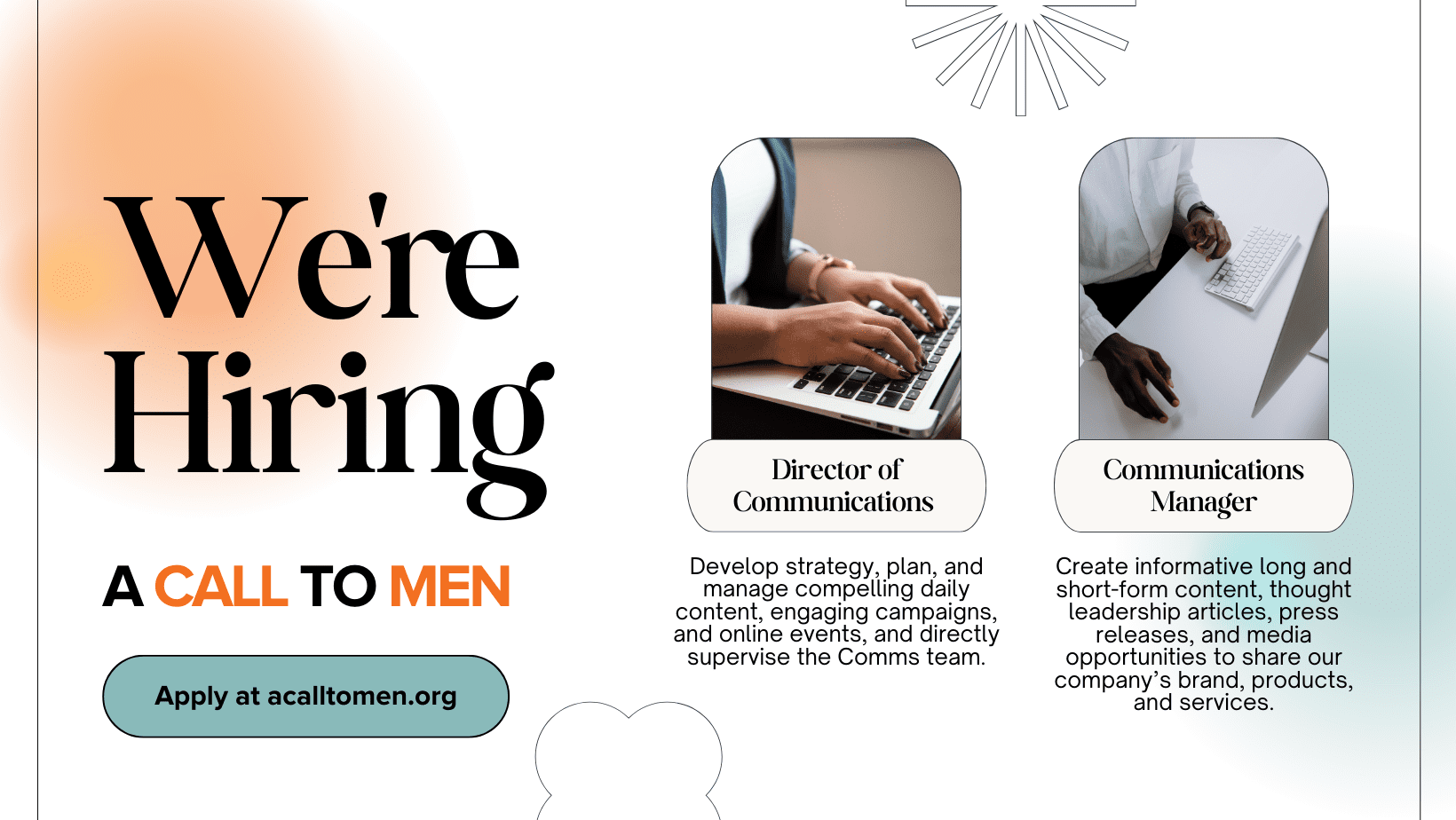 If you or someone you know is an individual who cares about the promotion and strategic expansion of healthy manhood, consider applying to be a Communications Director or Communications Manager with A Call to Men! Click on the drop down menu below to find out more.
Director of Communications

Job Title: Director of Communications

Reports to: Chief Communications Officer

Salary: $90,000 – $100,000

FLSA Status: Exempt

Status: Full Time

Prepared Date: June 2, 2023

 

POSITION SUMMARY: The Director of Communications will be a talented, reliable, detail-oriented, deadline-driven manager with experience using digital channels and tools to drive engagement. The Director of Communications will work alongside the Chief Communications Officer to develop strategy, plan, and manage compelling daily content, engaging campaigns, and online events, and directly supervise the Communications Manager, Communications Associate, Graphic Designer, and Interns. The Director of Communications will manage content on A Call to Men's website, disseminate campaigns across the organization's digital platforms, and measure their success to advise future decisions based on metrics and data. This position requires a high level of creativity and solid editorial judgment, as well as the ability to use and produce social media analysis that drives strategy and reinforces the organization's commitment to gender and racial justice.

ESSENTIAL DUTIES AND RESPONSIBILITIES: 

Develop strategic marketing plans for all departments

Draft and implement creative and copy briefs

Lead on social and email calendar

Develop, create, and execute email marketing campaigns each month

Execute social media marketing plans working within monthly marketing budgets

Creates, executes, and monitors multi-platform content and social strategies, ensuring that brand voice is consistent across all social platforms

Strategize, execute, and manage A Call to Men's paid media program to acquire leads

Interpret social media metrics and translate them into critical takeaways to inform future strategy

Design and test strategies to increase followers, engagement, and increase revenue

Project manage and collaborate with other departments.

Collaborate with the team on the design and implementation of all creative graphics designed for use on behalf of the company

Identify, capture, produce, and publish compelling written, graphic, and video content.

Build relationships, capitalize on existing resources, and work effectively within the team. 

Participate in creative buzz sessions and put forth fresh ideas for the team. 

Other duties and responsibilities that may be assigned

REQUIREMENTS:

Three to five years of experience managing social media programs (preferably for non-profit, social justice organizations)

Bachelor's degree in Journalism, Communications, or a related field preferred

Must have a proven record of successful online campaigns, user engagement, and a demonstrated ability to react to current events.

Experience in digital and social media communication, including crafting and executing holistic digital strategies with diverse audiences and goals

A passion for creating engaging content across all digital channels

Experience with web content management (mainly WordPress)

Ability to integrate still imagery and video into web features

Ability to learn and adhere to brand standards and marketing practices

Excellent project management skills to consistently meet deadlines.

Strong functional knowledge of social media principles and practices and the desire to apply that knowledge in a professional environment

KNOWLEDGE, SKILLS, AND ABILITIES:

Exceptional copywriting skills: a knack for writing engaging, Internet-friendly copy 

Demonstrated passion for and commitment to anti-violence work

A resourceful and collaborative approach to projects

​​Understanding of social media content best practices across multiple platforms, including Facebook, Twitter, Instagram, and Linkedin

Knowledge of email marketing best practices

Some design skills (Photoshop and/or Canva) 

Basic video editing skills preferred 

Must have a proactive mindset

Make it happen attitude–no job is too big or too small.

Highly self-motivated

Work independently while managing time and projects effectively.

Strong organizational skills and attention to detail

Prioritize, multi-task, stay calm under pressure, and thrive in a fast-paced environment with minimal supervision

Excellent written and verbal communications skills

Strong attention to detail and ability to maintain confidential information 

Ability to establish and cultivate strong relationships within the organization and externally

BONUS QUALIFICATIONS

Event planning and execution

Proactive, enthusiastic, with a positive attitude and sense of humor

PHYSICAL DEMANDS:

This position requires frequent use of computers and telephone. Sitting, talking, and listening for 8+ hours per day. An average of 8 hours per day is spent at the computer. Lifting up to 10 lbs.

WORK ENVIRONMENT:

This is a remote, work-from-home position with some travel required. The salary range is $90,000 – $100,000, with the added benefit of being part of a high-impact organization creating a more equitable and just society. BIPOC applicants are encouraged to apply.

CONTACT:

Please include your cover letter, resume, and salary requirements to Kimya@ACallToMen.Org. 

"A CALL TO MEN" is an "at-will" and equal opportunity employer. Applicants and employees shall not be discriminated against because of race, religion, sex, national origin, ethnicity, age, mental or physical disability, sexual orientation, gender (including pregnancy and gender expression), identity, color, marital status, veteran status, medical condition, or any other classification protected by federal, state, or local law or ordinance.

Reasonable accommodation will be made so that qualified disabled applicants may participate in the application process. Please advise in writing of special needs at the time of application.
Communications Manager

Job Title: Communications Manager

Reports to:  Director of Communications

Salary Range: $65,000 – $75,000

FLSA Status: Exempt

Status: Full Time

Updated:  June 26,2023

POSITION SUMMARY: The Communications Manager will be a talented, reliable, detail-oriented, deadline-driven manager with experience creating informative content, including long and short-form content, thought leadership articles, press releases, and media opportunities to share our company's brand, products, and services. The Communications Manager will also work alongside the Director of Communications to develop strategy and plan and manage compelling daily content. This position requires a high level of creativity and solid editorial judgment that reinforces the organization's commitment to gender and racial justice.

ESSENTIAL DUTIES AND RESPONSIBILITIES: 

Responsible for writing short and long-form content

Collaborate with subject matter experts to write and produce thought leadership

Draft and review communication materials, including press releases, press kits, scripts, talking points, blog posts, briefings, and other external-facing content

Proactively pitch stories to key news media

Vet media relations opportunities.

Monitor and share media coverage for relevant stories that mention the Company or pertinent issues

Must have a proven record of successful online campaigns, user engagement, and a demonstrated ability to react to current events. 

Manage ongoing editorial calendar — including social media, email, and website content.

Develop, create, and execute email marketing campaigns each month.

Identify, capture, produce, and publish compelling written, graphic, and video content.

Participate in creative collaboration sessions and put forth fresh ideas to the team. 

Create, execute, and monitor multi-platform content and social strategies, ensuring that brand voice is consistent across all social platforms.

Other duties may be assigned as needed.

REQUIREMENTS:

3-5 years of experience managing communications programs (preferably for cause-driven or mission-focused organizations)

Experience in digital and social media communication including:

Crafting and executing holistic digital strategies with diverse audiences and goals

Developing and managing cross-channel calendars

Ability to compile and analyze digital engagement metrics

Experience with web content management (especially WordPress)

Ability to learn and adhere to brand standards and marketing practices

Excellent project management skills to consistently meet deadlines

Strong functional knowledge of social media principles, practices, and the desire to apply that knowledge in a professional environment

BONUS QUALIFICATIONS

Proactive, enthusiastic, with a positive attitude and sense of humor

KNOWLEDGE, SKILLS AND ABILITIES:

Exceptional copywriting skills: a knack for writing engaging, internet-friendly copy 

Excellent written and verbal communications skills

Ability to quickly absorb complex information and translate it into concise concepts that can be communicated effectively.

Demonstrated passion for and commitment to anti-violence work

Resourceful and collaborative approach to projects

​​Understanding of social media content best practices across multiple platforms, including Facebook, Twitter, Instagram, and Linkedin

Knowledge of email marketing best practices

Make it happen attitude — no job is too big or too small

Highly self-motivated

Prioritize, multi-task, stay calm under pressure, and thrive in a fast-paced environment with minimal supervision

Ability to maintain confidential information 

Ability to establish and cultivate strong relationships within the organization and externally

ORGANIZATIONAL RELATIONSHIPS:

The Communications Manager will report directly to the Director of Communications.  

PHYSICAL DEMANDS:

This position requires frequent use of computers and telephone. Sitting, talking and listening for 6+ hours per day. An average of 4-8 hours per day spent at the computer. Lifting up to 10 lbs.

WORK ENVIRONMENT:

This position is located in a home office and will require minimal travel.

CONTACT:

Please include your cover letter, resume, two writing samples, and salary requirements to Kimya@ACallToMen.Org. 

"A CALL TO MEN" is an "at-will" and equal opportunity employer. Applicants and employees shall not be discriminated against because of race, religion, sex, national origin, ethnicity, age, mental or physical disability, sexual orientation, gender (including pregnancy and gender expression) identity, color, marital status, veteran status, medical condition, or any other classification protected by federal, state, or local law or ordinance.

Reasonable accommodation will be made so that qualified disabled applicants may participate in the application process. Please advise in writing of special needs at the time of application."